School Progams - Live Science Workshops, Shows & Assemblies for Schools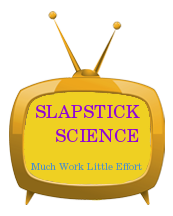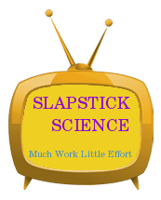 Much Work With Little Effort
The all-time favorite science assembly where kids learn that with physics, they can do anything! Hoisting 200 pounds (like their principal) over their heads, lifting 1000 pounds of classmates, or throwing the portly Dr. Quark 8 feet high is simply a matter of understanding Kinetic Energy, Potential Energy, Friction, and Simple Machines (pulleys, levers, and screws are demonstrated).
1. Grades: K-6
2. Two show minimum, or 1 show plus 3 workshops
3. 90 minute setup and 60 minute teardown
4. 14-foot clearance required over stage (may need to be in the gym)
5. Show runs 55-60 minutes for K-2nd and 70-75 minutes for 3-6th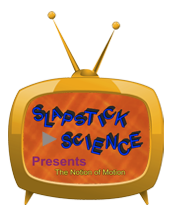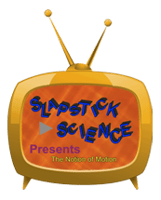 The Notion of Motion
This Physics assembly is a perfect introduction to elementary students about the fun field of physics - the science about how things move. Without using any numbers this hour-long lecture-demonstration covers a whole unit in most Physics textbooks (for an assembly it may be long, but compared to the time usually required to teach hundreds of kids a complete UNIT, it's mighty concise). It teaches all three of Newton's Laws of Motion and finishes by quizzing the audience as to how each of Newton's Laws is demonstrated if the Slapstick Scientist discharges a fire extinguisher while wearing roller blades. Topics covered include: Scientific Method and Hypothesis, Inertia, Force, Acceleration, Action & Reaction, and Units of measurement.
1. Grades: K-8
2. Show runs 55-60 minutes for K-2nd and 70-75 minutes for 3-8th
3. Stage cannot be carpeted
4. 9-foot clearance required over stage (may need to be in the gym)
5. Two show minimum, or 1 show plus 3 workshops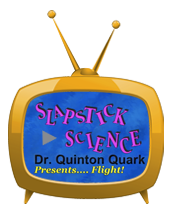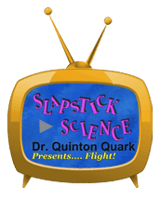 Flight
Everybody wants to know how an airplane flies!
This show is a celebration of the Wright Bros. First Flight in 1903. It is offered year-round, but recommended as a nonsectarian assembly during the month of December (the anniversary of the First Flight is December 17!) Using a great deal of audience participation and dozens of classic demonstrations, some of which are only offered by Slapstick Science outside the walls of major science museums, we teach how the Wright Bros. used the discoveries of other scientists that were centuries old before they managed to succeed where all others had failed. Lessons include distinguishing "flight" from "gliding" or "floating," what the forces of "weight," "lift," "drag," and "thrust" are, where we find air, how much weight/pressure air has, how strong air is, and how air makes an airplane fly. Demonstrations include Madgeburg Spheres (a Slapstick Science exclusive), "Guinea and Shuttlecock" in a vacuum (also a Slapstick Science exclusive!), flying a kite indoors, breaking a stick with air pressure, and flying a crash test dummy the length of the basketball gym.

1. Good for all audience K - 8 and even Family audiences
2. Requires the use of a basketball gym
3. Running time 60 - 75 minutes
4. Requires 2 hours to set-up and 90 minutes to break down
5. Great NONSECTARIAN assembly for the month of December.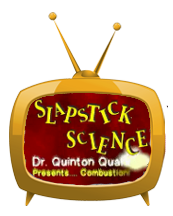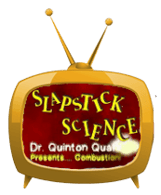 Combustion
If your frying pan bursts into flame on your stovetop, would you or your kids know what to do? If you think putting it in the sink and running water over it is a good idea, you're not alone - but you'll get badly burned and quite likely burn down your house. If you think the best thing to do is throw flour on it, you're not alone, but you'll make an explosion. If you think you should just get out as fast as possible and call 911 from a neighbor's house, that will keep you from getting hurt, although anyone else in the house will be in great peril when that fire spreads to the kitchen ceiling before the fire trucks show up. There are better options. "Combustion! - the Fire Safety Show" was inspired by a responsible kid who burned his house down doing what he had been told to do - go home and make dinner. But nobody ever told him what to do in case there was a kitchen fire caused by cooking - a fairly common occurrence. This chemistry lecture teaches fire safety by teaching the chemical foundations of fire such that students can understand what poses fire hazards so they can recognize them and avoid them in real life. This lecture picks up where "Stop, Drop, and Roll" leaves off, explains why that's important, and makes the audience think about the fire triangle. Due to the nature of the topic, while this is still a thrilling and stimulating assembly, the tone is much more somber than any other Slapstick Science offering.
1. Grades: 3-8
2. 50 - 60 minutes
3. Can do with "Kiddie Chem" show
4. Offered during October - Fire Safety Month
5. Written to accompany the Fire Department's presentation
6. If smoke detectors over the stage cannot be disabled or Fire Department cannot attend, Slapstick Science can provide a ventilation hood to prevent "false alarms" from being turned on during the show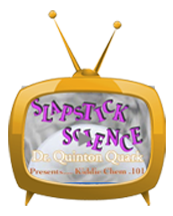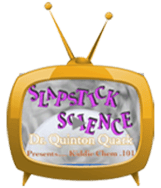 Kiddie Chem
This is the perfect First Chemistry Lecture for our budding scientists. Using simple demonstrations and exotic (non-toxic) materials including dry ice and liquid nitrogen, this exciting lecture teaches about solids, liquids, and gases, shows what a chemical reaction is, teaches what's made of chemicals and what makes chemistry happen. Guaranteed fun and laughs for even the most science-phobic kids, and likely to inspire many new chemists.
1. Written for K - 3rd grades
2. 50 - 55 minutes
3. Accompanies "Combustion" show
4. Fun for all ages - even though the lesson "Solids, Liquids, and Gases" is very simple, the demonstrations used are quite spectacular
5. If booked during October there is no additional Materials Fee. If booked during any other (warm) month, there will be an additional $200 Materials Fee.
During the months of September and June we do offer Circus Residencies in schools. One of our typical programs would have us working with a grade for a week and then presenting a public show featuring the skills and acts which the kids have developed. During a typical Van Lodostov Family Circus Residency we offer juggling, unicycling, Spanish web, Chinese Pole, Sliding Table, Human Pyramids, tight wire, clowning, devil stick, diabolo, stilt walking, rola bola, plate spinning, tumbling.... the list goes on because in the circus there's a job for everyone regardless of size, shape, or ability, or creativity. These programs foster team building and offer the students the opportunity to learn that they can work hard and have fun at the same time.
SIMPLE MACHINES WORKSHOP: Enhances the "Much Work with Little Effort" assembly by allowing students to manipulate and explore Dr. Quark's unique collection of machines designed expressly for use in the show and these workshops.
MOTION WORKSHOPS: These workshops address each of Newton's laws but particularly reinforce the concept of "Inertia" which is totally new to most students. May also help older kids grasp the concepts of "mass" and "force" and "acceleration".